For the first two-plus decades of my life, season changes only happened on television, in the movies, and in storybooks. I didn't put up seasonal decorations - cuz they wouldn't match the weather around me in Southern California. Why put a plastic snowman out when average winter high temperatures are in the upper 60s?
Finally, just a month or so ago, I decided that, now that I live in a place that HAS actual seasons, my front yard could use some appropriate ornamentation. So, on my weekly trip to Meijer, I got myself a new friend.
Meet George
Isn't he cute? And just perfect for autumn, don't you think?
But, you see, that very well may be the problem. Maybe I say this every year, but I've been living in Michigan for eighteen years now, and it seems this has been the oddest fall EVER. On Monday, high temps didn't make it to 40. This coming Sunday, they're forecasting 68 degree highs. Frost one morning - shorts another. What season is it anyway?
Even the trees are confused!
I drove past this tree, just down the street from my house, earlier this week. It's like half of it is in spring, and the other half in winter. Sorta how the weather seems these days.
Trust me, I don't mind it. The variety is nice. And it's certainly better than a foot of snow in early November. But I'm not sure George agrees. It seems, for the past couple days, he's been pretty upset. So upset, in fact, that he can't face me.
I've repeatedly turned him "face out," but he w

on't

stay that way!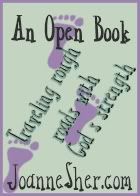 Not sure what his issue is. Maybe he just can't stand to look at the ever-changing weather. Or perhaps he's embarrassed to be out in the wintery and/or springy weather, when he KNOWS he's a fall dude.
The good part is - no matter which way he's facing, he's still smiling.
What kind of seasonal/autumn decorating do you do?