by Connie Cortright
Valentines Day is coming soon, so what better way to start the month of February than lots of kisses - of course this is the chocolate kind, which has been around for more than one hundred years. Some things haven't changed since our parents/grandparents were children.
One thing that hasn't changed is the love of chocolate. Since chocolate was first sold in the 1600s, it's been a favorite for every sweet tooth - at least, for women. Milton S. Hershey used this universal love for chocolate when he started his candy company in the late 1800s in Pennsylvania. Not surprisingly, his company grew and expanded very quickly.
Hershey first became famous for chocolate powder to flavor baked items and milk. The chocolate bar was sold nationally and even shipped overseas to the Doughboys during World War I.
The Hershey Kiss has been around since 1907, but back then the kisses were hand-wrapped in foil paper. How did the workers not get their fingers all full of chocolate, wrapping them one at a time? The mechanization invented by 1921 made it possible for the chocolate candies to be wrapped automatically so more could be produced for the growing demand. No one is sure where the name for the Kiss came from, but it is thought to originate from the sound made by the machine making the chocolate morsels.
The 20s brought other Hershey candies on the market also. Mr. Goodbar was first introduced in 1925 and chocolate chips in 1928. That made it possible for Ruth Graves Wakefield to invent the Toll House Chocolate Chip Cookie recipe in 1930. She didn't waste any time coming up with that marvelous recipe to use Hershey's new chocolate chips. That was a winning combination for sure.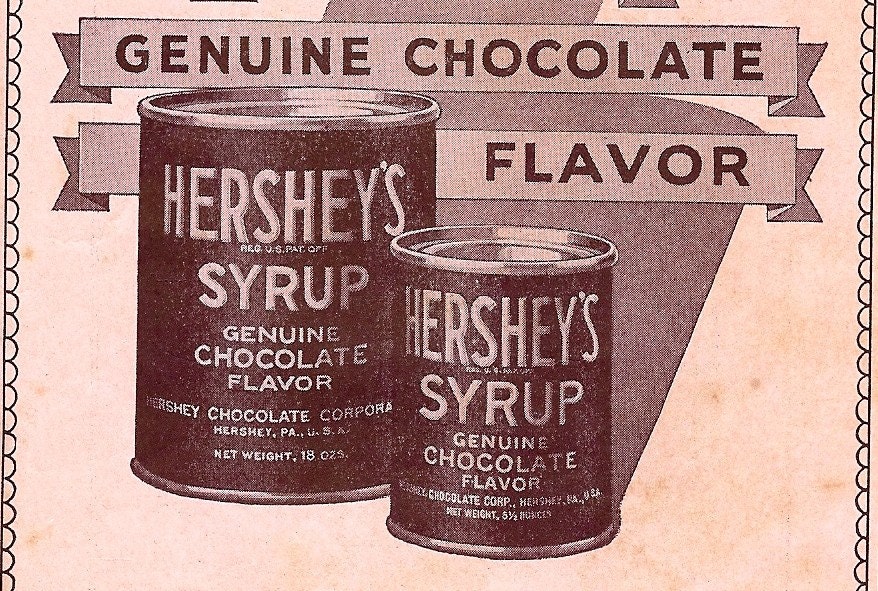 Another thing that Hershey introduced into the American home was chocolate syrup. Of course, people had tasted chocolate syrup in ice cream parlors when it was drizzled over banana splits or added to a glass of soda water to make chocolate sodas, but no one could purchase it in a store until 1926.
After that time everyone could enjoy it at home by stirring the syrup into their milk or adding it to a bowl of ice cream.
It's interesting to think that we share something so tasty with people who lived back then- a Hershey kiss or Mr. Goodbar made the same way we do today. Makes the long forgotten days seem like they aren't so long ago.
Milton Hershey should be considered an American hero for making it possible to bring chocolate to the masses as readily as it is available to us today. Hats off to Mr. Hershey!
Information taken from
The Hershey Company
and
Wikipedia
For more historical tidbits check out my blog
Through the Milk Door